Ms. Surber's 1998-1999 Class
4th Grade, Barron Park School

1998-1999 Class Statistics
There were 31 students in our class, 18 boys and 13 girls.

Of all 31 students, fourteen students spoke another language at home.

Five spoke Chinese.
Two spoke Hindi.
Two spoke Korean.
One spoke French.
One spoke Japanese.
One spoke Italian.
One spoke Russian.
One spoke Spanish.

Twenty-nine students were right-handed; two students were left-handed.

Pixies & Paintings
In the Pixie segment of this multimedia project pairs of students in our class created portraits of pixies and wrote descriptions of the pixies. Students in our partner class at Walter Hays attempted to re-create our pixies after reading our descriptions while we did the same for theirs. Then we compared the original pixie portraits with the recreations and evaluated our descriptions.
In the Paintings segment of this project pairs of students in our class wrote descriptions of modern art paintings. Students in our partner class at Walter Hays attempted to re-create our the original paintings after reading our descriptions while we did the same for theirs. Then we compared the original paintings with the recreations and evaluated our descriptions. This part was much harder than the Pixie part! Visit our Pixies & Paintings webpages to see our project.
Charlie Breitrose wrote about our project in an article published in the Palo Alto Weekly on 5/19/99 called "Opening New Windows: How Palo Alto Teachers Use Computers to Make Education Click."

The Arrival of Our Families in California
When
Who
From Where
Transportation
Trip
1894
Ryan
Rivordo, Italy
Boat & Train
2 months
26 Years Later
1920
Sunol
Norway
Boat & Train
10 years
6 Years Later
1926
Ms. Surber
West Brook, Texas
Truck
3 years
5 Years Later
1931
Elizabeth
Phoenix, Arizona
Car
6 days
11 Years Later
1942
Devin
New York
Car
4 days
3 Years Later
1945
Blake
Arkansas
Train
2 days
4 Years Later
1949
Brent
New Brunswick, NJ
Ship
6 years
6 Years Later
1955
Brecon
Boston, MA
Car
3 weeks
3 Years Later
1958
Jessica
Puerto Rico
Airplane
9 hours
1959
Michelle
Plainfield, NJ
Airplane
1 day
3 Years Later
1962
Anthony
New Jersey
Car
5 days
3 Years Later
1965
Kala
Clearwater, FL
Car
2 weeks
12 Years Later
1977
Kiyoshi
Osaka, Japan
Airplane
12 hours
8 Years Later
1985
Reid
Texas
Car
5 days
5 Years Later
1990
Jaspal
England
Airplane
10 hours
3 Years Later
1993
John
Scotland
Airplane
12 hours
3 Years Later
1996
Darrin
Dennis
Galina
Tucson, AZ
Princeton, NJ
Minsk, Belarus
Car
Airplane
Airplane
3 days
10 hours
20 hours
1997
Eucina
Jing-Jing

China
Houston, TX
Airplane
Airplane

12 hours
4 hours
1998
Charles
Hyein
Kevin
Camilo
China
Taejun, Korea
Taiwan
Santiago, Chile
Airplane
Airplane
Airplane
Airplane
16 hours
8 hours
13 hours
10 hours
1999
Alexandra
Kenny
David
Montreal, Canada
Seoul, Korea
St. Louis, Missouri
Airplane
Airplane
Car
9 hours
11 hours
4 days

Investigating Artifacts
In the first section of this unit we walked to Bol Park to collect natural materials which we sorted and classified and then used for a math lesson on Venn Diagrams. Then we made masks. In the second section we listened to myths, wrote our own myths, created posters to illustrate the myths, and shared our myths around a "campfire" in the Library. In the final section of the unit we excavated "middens" by carefully sieving the soil and cleaning the artifacts, recording the spot where each artifact was discovered. The completed midden maps (another map) and museums (another museum) will help us draw inferences about the culture from the artifacts we found.

25 Really Rad & Creative Poems
Our HyperStudio poem collection was featured at the District Poetry Celebration and mentioned in an article by Charlie Breitrose in the Palo Alto Weekly called "Rhyme and Verse Fill District Office."

The Tulip Project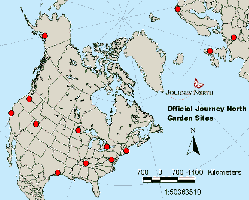 We joined classrooms all across North America in a telecommunication project to track the progress of spring by observing the emergence of tulips. Our class was selected as one of the 13 "Official" Journey North Tulip Gardens. The September 18th Tulip Garden Update mentions our school! Our first activity was predicting what order the 13 Official Tulip Gardens would bloom. Our class prediction:
Palo Alto, California
Franklin, Tennessee
Houston, Texas
Washington, D.C.
Salt Lake City, Utah
Pequot Lakes, Minnesota
Hood River, Oregon
Boston, Massachusetts
Mississauga, Ontario
Newport-on-Tay, Scotland
Bad Kreuznach, Germany
Utsjoki, Finland
Anchorage, Alaska
We planted our tulip bulbs on December 7th with help from Naomi Fanwick and Ann Cole. We tracking the progress of spring by observing patterns in the emergence and blooming dates of the tulips. Our tulips emerged on February 8th and bloomed on March 20th. The final data from the Official Tulip Gardens was:
Palo Alto, California (2/28 - 3/10)
Hood River, Oregon (2/1 - 3/29) & Bad Kreuznach, Germany (2/10 - 3/29)
Franklin, Tennessee (2/7 - 3/30)
Washington, D.C. (3/4 - 4/1)
Newport-on-Tay, Scotland (2/8 - 4/5)
Boston, Massachusetts (3/1 - 4/13)
Mississauga, Ontario (4/1 - 4/23)
Salt Lake City, Utah (3/15 - 4/27)
Pequot Lakes, Minnesota (4/1 - 5/1)
Anchorage, Alaska (5/7 - not yet)
Utsjoki, Finland (not yet - not yet)
Houston, Texas (bulbs killed by drought)
Check out the online Tulip Reports.

Mystery Class
Another Journey north project involved tracking the sunrise and sunset data from 10 Mystery Classes and comparing the data to our own photoperiod. After recording the data for 10 weeks, we tried to figure out where in the world each class was. We used the Sun and Moon Data For One Day US Naval Observatory website to test our predictions. The final Mystery Class Report has links to our new friends around the world.

Journey North's Webby Award
Journey North received the 1999 Webby Award in the Education Category. On Marth 19th, the Journey North Team visited our classroom and shared their Webby Award. We were also filmed by Internet Tonight trying to solve the Mystery Class puzzle and checking on the progress of our tulip bud, which finally bloomed on March 21st.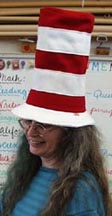 Read Across America Day
March 2nd was Read Across America Day and Dr. Seuss's Birthday. Room 9 celebrated the joy of reading by reading to ourselves, to each other, and by listening to guest readers. We had a great time talking with our guests about their favorite authors and their jobs.
Ed Faulkner (PAUSD Information Services/Technology Manager) read Oh the Places You'll Go by Dr. Seuss
Cathy Lipe (Hewlett-Packard K-12 Education) read a chapter from Harriet the Spy
Thomas Fortin (PAUSD Network Specialist) read "Sick" from Where the Sidewalk Ends by Shel Silverstein
Gary Fazzino (Palo Alto Mayor) read The Stranger by Chris Van Allsburg
Dorothy Kaplan (PAUSD Business Office) read Green Eggs and Ham by Dr. Seuss
Susie Richardson (PAUSD Board of Education) read A House is a House for Me
Sharon Hanrahan (Hewlett-Packard) read The Widow's Broom by Chris Van Allsburg
Brian Bothun (Palo Alto Daily News) read the obituary of Virginia Durr from The Los Angeles Times

Stuffed Animal Day (2/5/99)
After we introduced our Stuffed Animals, students collected data and created graphs to present it to the class. Then we discussed why results were different on some graphs (Are koalas bears or not? How big is "medium"?) and wrote news articles about the day. We also took pictures of our animals: Ms. Surber's Animals, Group One's Animals, Group Two's Animals, Group Three's Animals, Group Four's Animals, Group Five's Animals, Group Six's Animals.
It's Stuffed Animal Day in Room 9 at Barron Park School. It looks like the 17 bears were really popular. The 12 dogs came in second. It's amazing what exotic animals people brought: hedgehogs, kangaroos, and even people! It was interesting to watch the kids make animal graphs. We asked Kiyoshi how he liked Stuffed Animal Day and he said, "It was great!" --by Devin
On Friday, February 5th Room 9 at Barron Park School had a Stuffed Animal Day and made graphs. Mammals were the most popular type. There were 61 stuffed animals total, and 49 were mammals. The next most popular type was marsupials, then reptiles, and then insects. Out of all the mammals bears were the most popular. There were 16 bears; that's more than a quarter of all the mammals. The most popular size was medium; there were 23 medium sized stuffed animals. --by Dennis
My recommendation to a toy company would be to make more small, plastic eyed bears. On Friday, February 5th Room 9 had a Stuffed Animal Day. Only seven stuffed animals had non plastic eyes. Twenty-nine animals out of 61 were small, and 15 out of 61 were bears. --by Ryan

California Explorers
Each group chose an explorer who was important in the history of California. Students made timelines of California and placed their explorers in time, made maps to show where the explorers traveled, drew portraits of what the explorers might have looked like, and wrote essays about the goals and accomplishments of the explorers. Then each group created a poster and made a presentation to the rest of the class. Explorers we learned about:

Water
Our first science unit was the study of water. We observed several properties of water: surface tension, rate of flow, and expansion/contraction with changes in temperature. We also investigated how location and surface area influence the rate of evaporation and explored condensation. We investigated what happens when water flows over different Earth materials and tested water from home. The final activity of our study of Water was a Water Taste Test comparing five different types of water.
On Friday, September 25th, Jennifer Kerr, an AP reporter from Sacramento, came to observe our class doing a water lesson to prepare for an article she is writing about the new California State Science Standards. We investigated the effect temperature has on the density of water and discovered that hot water rises and cold water sinks. We were thrilled to see the article and photographs in the Palo Alto Daily. You can read the text of the article at the Popular Science Magazine website.
On October 5th a Swedish TV crew for the Swedish news show "Hard Facts" came to film our class doing a water investigation. The show aired in Sweden in November.

Website for Ms. Surber's Current Class


This page created by Lucinda Surber.

Page completed 8/3/99

Copyright © 1998-2004 Lucinda Surber. All Rights Reserved.