Ms. Surber's 1999-2000 Class
4th Grade, Barron Park School

1999-2000 Class Statistics
There have been 28 students in our class this year, 17 boys and 11 girls.

Thirteen students speak another language at home.

Four speak Chinese.
Three speak Hebrew.
One speaks Italian.
One speaks Japanese.
One speaks Korean.
One speaks Norwegian.
One speaks Punjabi.
One speaks Russian.
One speaks Swedish.

Twenty-six students are right-handed; two students are left-handed.

Fourteen were born in the Year of the Snake and fourteen were born in the Year of the Horse. (Ms. Surber was born in the Year of the Dragon.)

Extraterrestrials & Expressionism
In the Extraterrestrials segment of this multimedia project pairs of students in our class created portraits of extraterrestrials and wrote descriptions of the extraterrestrials. Students in our partner class at Walter Hays attempted to re-create our extraterrestrials after reading our descriptions while we did the same for theirs. Then we compared the original extraterrestrials portraits with the recreations and evaluated our descriptions.
In the Expressionism segment of this project pairs of students in our class wrote descriptions of modern art paintings. Students in our partner class at Walter Hays attempted to re-create our the original paintings after reading our descriptions while we did the same for theirs. Then we compared the original paintings with the recreations and evaluated our descriptions. This part was much harder than the Extraterrestrial part! Visit our Extraterrestrials & Expressionism webpages to see our project.

The Arrival of Our Families in California
When
Who
From Where
Transportation
Trip
1922
Danny
New York
Train
3 weeks
4 Years Later
1926
Ms. Surber
West Brook, Texas
Truck
3 years
12 Years Later
1938
Melinda
Canton, China
Ship
1 month
11 Years Later
1949
Katie
Rhode Island
Car
1 week
7 Years Later
1956
Erica
Japan
Airplane & Car
3 years
6 Years Later
1962
Nicholas
New Jersey
Car
4 days
6 Years Later
1968
Molly
Ireland
Airplane
12 hours
8 Years Later
1976
Sunjay
India
Airplane
26 hours
5 Years Later
1981
Brian
St. Louis, Missouri
Airplane
4 hours
1982
Benny
London, England
Plane & Car
1 year
2 Years Later
1984
Thomas H.
Taiwan
Airplane
13 hours
1985
Julien
France
Airplane
14 hours
1986
Bill
China
Airplane
14 hours
3 Years Later
1989
Ali
Thomas B.
Ithica, New York
Hubei, China
Airplane
Airplane
6 hours
13 hours
5 Years Later
1994
Mari
Tokyo, Japan
Airplane
10 hours
3 Years Later
1997
Rachel
Hong Kong
Airplane
12 hours
1998
Chen
Merrill
Nora
Jerusalem, Israel
Decherd, Tennessee
Ann Arbor, Michigan
Airplane
Airplane
Car
22 hours
9 hours
5 days
1999
Adrian
Ariele
David
Emily
Harpinder
Jonas
Guy

Trondheim, Norway
Padua, Italy
Boston, Massachussets
Raleigh, North Carolina
Delhi, India
Uppsala, Sweden
Haifa, Israel
Airplane
Airplane
Airplane & Car
Airplane
Airplane
Airplane
Airplane
19 hours
14 hours
5 days
10 hours
24 hours
17 hours
17 hours
2000
Cindy
Seoul, Korea
Airplane
9 hours

California Relief Maps
We constructed relief maps of the State of California. We sketched the major geographical features on large boards and modeled the mountains and valleys. After the "goop" dried, we painted the elevations and the surrounding states. Finally we located five important cities and made a key. We agreed that this was a fun and messy project!

Investigating Artifacts
In the first section of this unit we walked to Bol Park to collect natural materials which we sorted and classified and then used for a math lesson on Venn Diagrams. It was fun trying to guess the Secret Sorting Rule of each Venn Diagram. Then we made masks. In the second section we listened to myths, wrote our own myths, created posters to illustrate the myths, and shared our myths around a "campfire" in the Library. In the final section of the unit we excavated "middens" by carefully sieving the soil and cleaning the artifacts, and recording the spot where each artifact was discovered. The completed midden maps (another map) and museums (another museum) helped us draw inferences about the culture from the artifacts we found.

Theme Days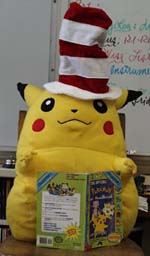 Four Nines Day: We celebrated 9-9-99 by searching for all the ways we could make the number 9 with a deck of cards. Our guest artist was Kate Hill, who taught us how to make Classic Nine Quilt Squares.
100th Day of School Theme Day: February 9th was the 100th day of school. We solved problems about 100 for math and had a list of 100s challenges to choose from. Alison wore 100 stripes, Erica wore 100 spots, Katie wore 100 confetti, Melinda and Jonas wore 100 squares, and David, Ariele, Emily, and Ms. Surber wore 100 bees. Katie, Melinda, Erica, and Adrian ate 100 Cheerios, Rachel ate 100 Lucky Charms, Jonas ate 100 raisins, Sunjay ate 100 peanuts, Mari ate 100 popcorns, Harpinder ate 100 chips, and Ms. Surber ate 100 goldfish. Other 100s activities included making 100 baskets, twirling around the poles 100 times, bouncing and tossing a ball 100 times, hanging upside down for 100 seconds, and sliding down the slide 100 times. And Harpinder, Brian, Bill, Melinda, Rachel, and Katie attended school for every single one of the first 100 days!
Read Across America Day: March 2nd was Read Across America Day and Dr. Seuss's Birthday. Room 9 celebrated the joy of reading by reading to ourselves, to each other, and by listening to guest readers. We had a great time talking with our guests about their favorite authors and their jobs.
Crazy Hair & Hat Day: We made graphs in math of all the crazy hair styles and hats in our room. Here is a Pictograph illustrating the results and some 4th & 5th crazy hair.


Animal Studies
The final project of our life science unit was a group project to investigate a question about our animals.
Where do crabs spend most of their time?
Which snail moves the most?
Do crabs prefer food on land or in water?
How much do the male and female crab eat during the day?
When are snails most active
Where do snails stay most of the time?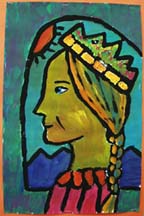 Art
Name Bugs: These art pieces (NameBugs and More NameBugs) illustrate the work we are doing with contrasting colors and positive and negative space.
Explorer Portraits: We learned to make portraits while studying explorers. Here are two portraits of Hernan Cortes, two portraits of Gaspar de Portolá, and portraits of Juan Rodríguez Cabrillo and Sir Francis Drake.
Tiles: Each student (and adult) in Room 9 painted a tile as part of the Art in Architecture project. The tiles will decorate the new and remodeled bathrooms at our school. We think the finished tiles are beautiful!
Rouault Court: We made self portraits in the style of Georges Rouault, who was a stained glass artist before becoming a painter. Here are Queen Molly and Princess Ariele, King Adrian and Jester Julien, Empress Melinda and Queen Cindy, King Benny and Jester Tony, and Wizard Nora and Queen Alison.

The Mystery Class Project
Each week we figured the photoperiod of 10 Mystery classes to try and locate where in the world they were located. We used data from the Spring Equinox to figure the longitude of each class. Each week the Mystery Classes sent us clues. You can read the clues in the Mystery Class Reports. On April 28th we sent in our guesses about the location of the 10 Mystery Classes. This was a challenging research project! Our guesses are first in blue with our reasons in black; the real locations are second in green. We got three right and were close on most of the others, except Mystery Class 3 where we weren't even in the right hemisphere!
Mystery Class 1: Buenos Aires, Argentina (35° S, 58.50° W)
We think this is right since Buenos Aires fit all the clues.
*Buenos Aires, Argentina (34.600 S, 58.450 W)
Mystery Class 2: (69° E) We have no idea!
Petropavlovsk, Kazakhstan (54.900 N, 69.100 E)
Mystery Class 3: Canada (100.25° W) We think this class is in Canada but don't know where.
Angangueo, Mexico (19.617 N, 100.300 W)
Mystery Class 4: Catjamarca, Peru (7.10° S, 78.5° W)
We are fairly confident about this guess because we looked up the Inca in our encyclopedia and Catajamarca fit this clue: "Our city was the Inca capital and was taken over by the Spanish conqueror, Francisco Pizarro in 1532."
Quito, Ecuador (00.217 S, 78.500 W)
Mystery Class 5: Frederikshavn, Denmark (56° N, 10.5° E)
We are pretty sure about this one because Adrian knew the words in Danish and Frederikshavn is in the right place.
*Frederikshavn, Denmark (57.433 N, 10.533 E)
Mystery Class 6: New South Wales, Australia (32° S, 145.50° E)
We don't know the exact city but we know about where it should be.
Invergordon, Australia (36.166 S, 145.583 E)
Mystery Class 7: Newfoundland (58° W) This is a guess!
Corner Brook, Newfoundland, Canada (48.950 N, 57.950 W)
Mystery Class 8: McMurdo Station, Antarctica (77.51° S, 166.40° E)
We are positive about this one since we searched for the A. P. Crary Science and Engineering Center on the Internet and it is at McMurdo Station.
*McMurdo, Antarctica (77.850 S, 166.700 E)
Mystery Class 9: Brussels, Belgium (50.51° N, 4.21° E)
We think this is right since Brussels fit all the clues.
Mons, Belgium (50.450 N, 03.933 E)
Mystery Class 10: Nightmute, Alaska (60° N, 161° W)
We guessed on the city but are pretty sure this class is in Alaska.
Nelson Lagoon, Alaska, USA (55.917 N, 161.000 W)

The Tulip Project
The Tulip Project: We joined classrooms all across North America in a telecommunication project to track the progress of spring by observing the emergence of tulips. Our class was selected as one of the 13 "Official" Journey North Tulip Gardens. The September 17th Tulip Garden Update thanks our class for helping with this project. Our first activity was predicting what order the 13 Official Tulip Gardens would bloom. Our class prediction: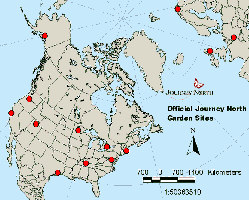 Houston, Texas
Franklin, Tennessee
Palo Alto, California
Washington, DC
Hood River, Oregon
Salt Lake City, Utah
Mississauga, Ontario
Pequot Lakes, Minnesota
Boston, Massachusetts
Newport-on-Tay, Scotland
Bad Kreuznach, Germany
Anchorage, Alaska
Utsjoki, Finland
Here are the real bloom dates for the official gardens.
#
Location
Date Bloomed
1.
Palo Alto, California
March 9th
2.
Washington, DC
March 19th
3.
Bad Kreuznach, Germany
March 21st
4.
Franklin, Tennessee
March 26th
5.
Pequot Lakes, Minnesota
March 27th
6.
Hood River, Oregon
April 1st
7.
Boston, Massachusetts
Newport-on-Tay, Scotland
April 5th
April 5th
Anchorage, Alaska
Utsjoki, Finland
(No blooms yet)
(No blooms yet)
Houston, Texas
Salt Lake City, Utah
Drought-no blooms
Mowed-no blooms
Mississauga, Ontario
No report filed

Each student measured the circumference of a tulip bulb, weighed it, and then predicted when that bulb would emerge and bloom in relation to the rest of the class bulbs. We made sketches of our bulbs and learned about the parts of the bulb. We cut the extra bulbs in half and discovered that the bulbs are made up of many layers. We planted our bulbs on December 2nd. Our tulips emerged on February 1st, about a month later than the Oklahoma tulips. Our data is featured in the Challenge Question for February. Because of the heavy rain, many of our tulips drooped instead of growing upright. Our tulips finally bloomed on March 9th and are featured in the March 17th Report. Here is a map showing which tulips have emerged and bloomed as of April 26th. Since our garden was so far from our classroom, we admired our inflatable French tulip indoors.

Time Capsule
We spent several class meetings choosing items for a Time Capsule which we think would tell a 4th grade class of the future what our 4th grade was like in the year 2000. Our choices:
Class picture (which would show 4th grade clothing and hairstyles in 2000)
Tea tag (which our class is collecting to try to reach one million)
Class schedule (showing what we do in school each day)
Year 2000 penny (since the millennium year is important)
Video of our classroom and school
Harry Potter and the Prisoner of Askaban (our favorite series)
Calvin & Hobbes (our second favorite series)
Barron Park shirt (our school shirt with bee designs by all students)
Bumblebee (our school mascot)
Printout of the Room 9 Webpage (describing activities we have done this year)
Computer name tag (since using the computers is an important part of our class this year)

California Explorers
Each group chose an explorer who was important in the history of California. Students made timelines of California and placed their explorers in time, made maps to show where the explorers traveled, drew portraits of what the explorers might have looked like, and wrote essays about the goals and accomplishments of the explorers. Then each group created a poster and made a presentation to the rest of the class. Explorers we learned about:

Sanchez Adobe Field Trip
We had a great time at the Sanchez Adobe learning about the three different cultures who lived in this spot: the Ohlone fished in the creek, the Spanish grew crops for Mission Dolores, and the Sanchez family raised cattle on their land grant from the Mexican government. We did activities that would have been a normal part of the life of the Sanchez children: grinding corn, making adobe bricks, making candles, and roping cows.


Tarantula
A tarantula was discovered in the boys' bathroom the first week of December. Mrs. Howard captured it and we offered to keep it in our classroom to observe for a few days. The intrepid Room 9 bug hunters collected an assortment of food and the tarantula seemed quite happy living in our classroom, though it didn't like to share crayons. It was released back into the wild at the end of the week.

Water
Our first science unit was the study of water. We observed several properties of water: surface tension, rate of flow, and expansion/contraction with changes in temperature. We also investigated how location and surface area influence the rate of evaporation and explored condensation. We investigated what happens when water flows over different Earth materials and tested water from home. (I collected my water from Clear Lake.) The final activity of our study of Water was a Water Taste Test comparing five different types of water.

Project Look Field Trip
At the Palo Alto Cultural Center we looked at three art exhibits about imagined objects or places. We then created our own imaginary scenes by altering digital images of ourselves with KidPix.

Math
We finished our first math unit, "Mathematical Thinking in 4th Grade," by creating mirror and rotational symmetry designs. In our second math unit, "Arrays and Shares," we practiced our multiplication facts through 12x12 and worked on multiplication and division problems. In our third math unit, "Landmarks in the Thousands," we investigated our number system by working with problems in the 100s and 1000s. The final activity for this unit was making a 10,000 chart. In "The Shape of the Data," we learned about data collection and statistics. After reading about the Year of the Dragon in our Scholastic News we wondered if we could find people born in all 12 years. We collected data about people who came to our classroom for a week. We had 1 Rat, 2 Oxen, 0 Tigers, 1 Rabbit, 1 Dragon, 13 Snakes, 14 Horses, 1 Ram, 0 Monkeys, 0 Roosters, 0 Dogs, and 0 Boars. Our final project was investigating a question about Sleep Patterns at our school. In the "Packages and Groups" unit we explored multiplication and division with two and three digit numbers. In "Equal Shares, Different Pieces," we explored fractions.

Reading
Island of the Blue Dolphins, by Scott O'Dell, helped us understand the life of the Chumash. We illustrated our favorite parts of the book (the sea elephant hunt and the fight with the devilfish) captioned with a quote from the novel. We wrote poems using similes (a favorite literary device of Scott O'Dell) and created crayon and water color art projects featuring organisms from the book. For our final activity we watched the movie adaptation of the book and discussed the similarities and differences.
Babe, the Gallant Pig, by Dick King-Smith, was fun to read even though the dialect was often difficult to understand. We learned many new vocabulary words about sheep herding and discovered how being brave and polite can lead to success. The final activity for this book was to create ribbons (two examples & three more) summarizing how each character helped Babe achieve his goal.
The Trumpet of the Swan, by E.B. White, was a nice mix of realism and fiction. We learned how difficult it is for trumpeter swans to launch themselves into the air and made sketches of the three stages of flight. We created advertising posters for Camp Kookooskoos and wrote newspaper articles. Our final activity was to illustrate our favorite part of the book.

Website for Ms. Surber's Current Class


This page created by Lucinda Surber.

Page completed 8/7/00

Copyright © 1998-2004 Lucinda Surber. All Rights Reserved.